Canvas Wall Art in Las Vegas Brought to You by Heather K. Photography
When you've chosen the right photographer, every photograph you purchase should be a beautiful work of art you want to display in your home for all to see.
As a photographer who takes great pride in every photograph I show my clients, I would love to see every single image on my customers' walls. Of course, I realize that's not a realistic dream, but my creative spirit couldn't settle on the idea of just offering beautiful prints or digitals that may or may not find frames someday. With this idea in mind, I created my custom Canvas Wall Collage service.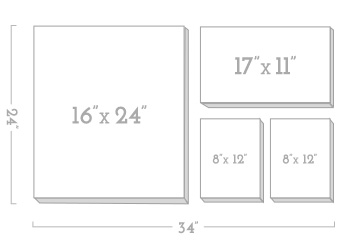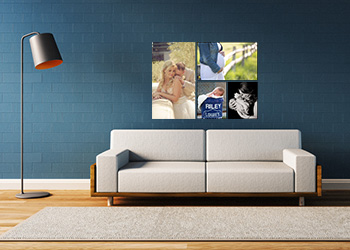 So, what is a Canvas Wall Collage, you ask? That's a great question!
To begin

I will just need a photo of the

wall

on which you would like your photos to appear. This can be a simple cell phone shot you send to me prior or I can do it at your in-home viewing session after we have finished your photographed shot. This allows me to get a better understanding of the dimensions we're working with so I can help you choose the optimal photo sizes for your space.

Once I have a good grasp of the size and shape

of the space we'll be working with, it's time for the design phase to begin! I will show you some wall designs I think would be ideal for your unique situation. I'll show you blueprints of possible design layouts, which may include a varied number of prints and sizes or one large portrait, depending on your space. When I meet with you, I'll explain how your wall's dimensions lend themselves to certain designs better than others.

After you've selected your layout design,

it's time for the fun part -- choosing your photos! I'll work with you to help identify which photos would work best at various sizes and placement on your wall. Of course, the final decision is yours, but I'll be here for guidance along the way if you'd like a second eye for your design before you finalize your order.
Although many of my clients are looking for canvas wall art in Las Vegas for their own homes, this photo art makes exceptional gifts for others, too. Here are some occasions you might want to consider when ordering my canvas art prints to enhance someone's special day:
Nursery Decoration (Intentionally-Belated Baby Shower)
Wedding Present
Retirement Gift
Decoration for a new home
The possibilities are limitless, so let's get creative! If you're interested in learning more about canvas wall art in Las Vegas, contact me so I can answer any questions or schedule a consultation.